What do our patients say?
Ashley
I can't express my gratitude enough. You have changed my life forever! I literally cried tears of joy after my lasik eye surgery. This is the best gift anyone has ever given to me. My eye sight is perfect now. I never knew what is was missing out on in this world before my surgery; definition in clouds, leaves on trees, snow on the tops of mountains…The list goes on and on! I actually went swimming for the first time in 15 years. Not only did you guide me through this painless procedure, you treated me like family too. I wasn't just another client in your office, and that's why i have already recommended you to all my friends. You're the best!
Thank you Dr. Sunalp
Alicia Saldana-Cisneros
The surgery was a very good experience for me. Today my life is completely different. I am very happy that I had the surgery. The surgery was fabulous with magnificent results, thanks to Sunalp Laser Vision.
Thank you Dr. Sunalp
Lauren Buchbinder
I drove from Orange County for my NuVision laser eye procedure, which meant that I had to stay overnight at a nearby hotel after the surgery. Although I was far from home, Dr.Sunalp and his staff made me feel completely at home in Tulare.
The morning after my surgery I woke up in my hotel room and turned on the TV; I almost cried when I was able to see the US Women's Gymnastics Team at the Olympics perfectly clear, for the first time, with my new eyes.
It has been two months since the surgery, and I can definitely say that I have transformed as an individual. Now that I take the time to notice the little things I couldn't see before, such as individual leaves on trees, I find myself using all of my sense more effectively. It is so nice to be able to slow down and enjoy the beauty that I never realized surrounds me everyday.
I am so grateful for Dr. Sunalp, his team, and laser eye surgery! My life has changed completely!"
For an airplane pilot, good vision is very important. At age 65, I have been flying for 47 years, and want to continue. But about 4 years ago, I noticed my vision changing in my left eye. It became blurry at all distances and I could not correct it by glasses. I barely passed my every 2 year FA flight physical the last time, and knew I would fail and be grounded from flying the next time. I consulted Dr. Murad Sunalp at Sunalp Laser Vision in Tulare, CA. He and his staff took great care in my special needs as a pilot. They recommended the best course of treatment for me, using their skills and their state of the art equipment. In February, 2014 I had a cataract extraction with intraocular lens implant. My vision is now outstanding, 20/20 or better. The colors are once again vibrant and beautiful. Driving at night is now a pleasure. Most important to me is that I can continue flying, which I enjoy so much.
Alex Caldwell, MD
Alex Caldwell, MD
Physician, Pilot, Actor
LASIK: Francesca B. (Medical Student)
Coreal Translplant: M. Kietly
Dry Eyes: H. Downing
Multifocal IOL: Selma Evans
Lasik, the best investment I ever made. Dr. Sunalp and his staff are awesome; everyone is so friendly and professional. My vision is better than it ever was with glasses or contacts. I highly recommend Dr. Sunalp for your vision correction..
Chelsey Milner, R.N.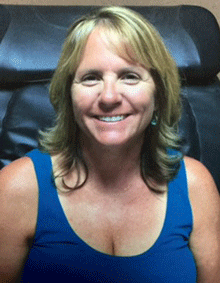 I came to Dr. Sunalp because my husband had great success with his LASIK eye surgery. My eyesight had drastically changed about 13 years ago with my right eye being virtually useless. When I reached 40s, my left eye weakened for reading. I came for a consult and Dr. Sunalp suggested surgery to correct it with monovision. The first few months I struggled with adjusting to my new vision, but with time, my vision became clear. Today I do not need glasses for driving (as I did before) and I only need readers for very small print.
Kim Schoenau